on SECURAM's ProLogic Series, when the 9 Volt battery is Low, the display screen will show "Low Battery..."
Menu options are disabled when the battery is low. The old battery must be replaced with a new good battery.
SECURAM recommends using Duracell or Energizer 9 Volt Alkaline batteries in our lock.
In the ProLogic Series, batteries are located in the Entrypad, outside the door of the safe. It may be positioned in either of 2 locations:
1. SureLock Drawer
On the lower right-hand side of the entrypad, there will be a SureLock Drawer. Unlatch the lever by pulling it down. Remove the battery compartment.
Replace the battery, reinsert the compartment and close the lever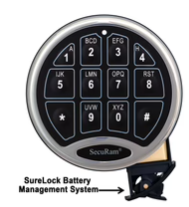 2. No SureLock Drawer
Place your palm at the bottom of the entrypad and push up about a quarter of an inch. The battery will be in the back of the entrypad.
After replacing the battery, be sure to secure the wires and ribbon cables so that they are not pinched or squeezed when replacing the entrypad on the door. To replace, set the entrypad on the shoulder.